Excavation & Grading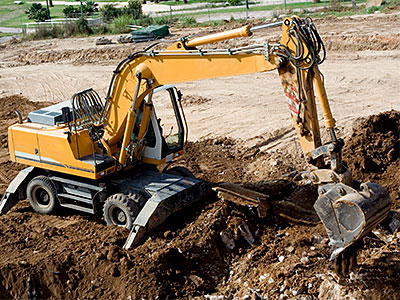 Whenever we think of the outdoor spaces of a property as well as garden spaces, we think about trees, shrubs, plants, and also the turf. Additional features we take into account in the designing stage are the masonry installations & various decorative components. Each one of these installations are clearly visible in the landscape. However, you will find specific equally important tasks that must be performed in the very first stage of the project. That helps ensure that all the features will be stable and strong.


Custom Excavation and Grading Services
Excavation & grading work needs to be handled by experts like us at Asphalt Paving Inc. & Masonry. We have the experience required to provide you with the type of services you need. Our company serves clients in and around Flushing, NY, and customizes solutions to meet their needs. With us, you are always assured of high-quality excavation & leveling solutions and excellent customer service.

When we are handling landscaping jobs, we sometimes find that the land is sloping or perhaps the original grading has not been done correctly. In case some backyard feature needs to be installed, the soil will need to be excavated and evened out first. This will give us the leveled land required to construct any outdoor features. The job needs to be done expertly, which is why it's essential to hire experts that would have the ability to provide you with grading services and custom excavation solutions.


Ground Leveling Services
As stated in the beginning, most excavation and grading work happens in the very first stage of the landscaping project. When you hire us for the project, our expert landscapers will visit your location. They will carefully survey the space, discuss what installations are needed and will then provide solutions that meet your specifications.

Incorrect grading causes the earth to erode in certain areas. In case the ground is sloping towards your home structure, that could lead to water buildup near the foundation and can harm the building. Our experts plan the grading so that the soil inclines gently towards the exterior of the property and directs all the water runoff towards the city's primary drainage features.


Excavation Solutions
We provide a range of demolition as well as excavation service together with any hardscaping tasks we handle for you. These services are essential when you're getting installations such as:


Outdoor Kitchens
Pools/ponds
Patios/decks
Boundary walls and retaining walls
Planter and terrace installations
Driveways, pathways, and walkways
Garden steps
Any yard structure
The Excavation Equipment We Use
We deploy experienced personnel who are trained to use tracked skid steers, dump trucks, dump trailers, and large excavators. Additionally, we use sophisticated techniques and equipment in our work. It enables us to handle all kinds of tasks expertly. While we concentrate on providing high-grade services, we maintain very affordable landscape excavation cost; that gives you value for money.

If you want high-quality excavation & grading work done, you need the services of a well-established company that would handle the job as per your specific needs. We at Asphalt Paving Inc. & Masonry make sure we provide tailored solutions at competitive grading cost.

With us handling this job, you also have the assurance that the work will be completed on time and to your 100% satisfaction. We aim to delight you with our excavation and grading services and ensure you get a good return on investment. For any more information, feel free to contact us at this number - 646-656-0806 or through this contact us form.
Cities that are served in New York (NY):