Services
At Asphalt Paving and Concrete we provide our clients with the following services: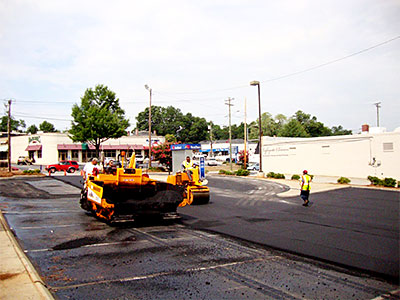 Asphalt Paving
If you want to have a driveway that will last you between 20 and 30 years then hot-mix asphalt paving is the perfect material for your needs. This is a similar product as what see roads being laid with. We will carefully grade and level out your site and ensure it is them compacted very well. We will then lay the asphalt out and smooth it over with the appropriate equipment. This is a cost-effective material that is also very easy to maintain. Read More About Asphalt Paving »


Seal Coating
We highly recommend that you have your surfaces seal coated. What this process does it place a protective film over your flooring and shield it from stains, makes it waterproof and fills any voids in the surface. Let the professionals ensure you get the right type of seal coating for your flooring material. Read More About Seal Coating »


Parking Lot Maintenance
Some of our parking lot maintenance services include replacement of damaged car stops and bumpers, fixing signs and re-stripping parking lines. We will also patch up and repair any pot holes in the asphalt surface of the parking lot. Let us keep your parking lot looking good and reduce any owner liabilities. Read More About Parking Lot Maintenance »


Concrete
At Asphalt Paving and Concrete we can carry out any type of concrete project you have in mind. From sidewalks to walkways, patios to driveways and foundations; we are your one-stop concreting company. We like to use the best grade of concrete that is b and durable! Read More About Concrete »


Masonry
For all of you masonry installations including concrete, brick, block and stone; we are the right company for the job. Our teams of professional masonry contractors have the best workmanship in the region. Read More About Masonry »


Excavation & Grading
We have expanded our services to also include excavation and grading. This means that we can prepare any construction site and have it ready for the building phase to begin. There is no doubt that have the site correctly excavated and graded is an important step for a successful build. Read More About Excavation & Grading »


Parking Lot Striping
The team at Asphalt Paving and Concrete have all the right equipment to carry out any parking lot stripping job. We will have your parking lot looking like new again by re-stripping the parking lines, or stripping a new parking lot! Read More About Parking Lot Striping »


Builders Pavement Plans (BPP)
A BPP (builder's pavement plan) is a prerequisite for any paving jobs such as roadway, sidewalk and curb installations. These plans need approval from various regulatory agencies like the DOB before any of the work begins. Since this process is complicated, hiring professionals is the way to go. We can create your BPP as well as all the other required technical specifications so that your project can progress in an unhindered manner. With all the required paperwork in place, the approval process becomes quicker and saves you a lot of stress. Read More About Builders Pavement Plans »


New Paving Construction
We are a company that offers high-grade paving services and can handle all types of projects for our clients. We have very well-trained crews that have the skill-set and tools to handle even the most complex jobs expertly. Whether you want a patio paved on your residential property or a large parking lot on your commercial premises, we are the company that can help. We are committed to providing clients with the best services and also cover our work with guarantees. This means you are assured of the best, paved surfaces on your property. Read More About New Paving Construction »


Sidewalks
If you have a concrete path or even a parking lot, installing a sidewalk is one of the best ways to make sure that the space has a neat and well-maintained appearance. We handle the design and build of sidewalks and make sure that the feature is installed as per code using the types of materials that are approved by the local council. We can handle projects of any size and shape and go out of our way to provide customized solutions to our clients. If you are looking for high-grade sidewalk installation services, we are the company to call. Read More About Sidewalks »


Waterproofing
Waterproofing is required to make walls and other surfaces water-resistant. This is one of the best ways to make sure that your home or commercial structure is protected from water damage, rotting, and warping. We offer customized services and the best quality services. We use the latest techniques and technology in our work and ensure that the job is completed to industry standards. Our company makes use of the most effective waterproofing products so that your building remains unaffected by water and moisture-related problems. Read More About Waterproofing »

For any more information, feel free to contact Asphalt Paving Inc. & Masonry at this number - 646-656-0806 or through this contact us form.
Cities that are served in New York (NY):