Parking Lot Maintenance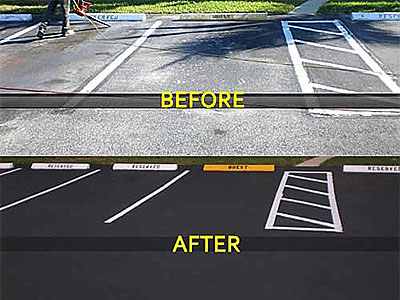 Your parking lot is one of the very first things visitors see when they visit your business. If this area shows signs of neglect, it can affect the impression that people have about how you run your commercial establishment, even before they enter the premises.

Beyond these first impressions, parking lot maintenance is also a vital aspect of your safety plan. Fixing potholes is an inexpensive way to improve the appearance of your parking lot and reduce owner liability. Uneven surfaces, potholes, and cracks in asphalt paving can result in tripping accidents. Don't leave yourself open to any financial liability by neglecting your asphalt parking lot. This is why it's best to get these surfaces inspected and repaired at regular intervals.


Custom Parking Lot Maintenance
Parking lot maintenance needs to be handled by experts like us at Asphalt Paving Inc. & Masonry. We have the experience required to provide you with the type of services you need. Our company serves clients in and around Flushing, NY, and customizes solutions to meet their needs. With us, you are always assured of high-quality solutions and excellent customer service.

We handle all types of parking lot maintenance such as replacing broken car stops and car bumpers, fixing potholes, straightening signs, re-striping faded parking stall lines, and overall parking lot upkeep. Don't leave those potholes unattended. Other repairs and maintenance services we offer include surface alterations such as seal coating, aggregate-based seals, rejuvenation sealant application, and more. In short, we provide a range of services that go a long way in maintaining the appearance and condition of your asphalt parking lot.


Preventative Asphalt Parking Lot Maintenance
We also recommend to our customers that they should opt for preventive maintenance of these surfaces. It helps prevent deterioration of your parking lot and is a cost-effective way to maximize pavement life. As soon as your paving shows signs of any wear and tear such as longitudinal cracks, raveling, minor block cracking, or transverse cracks, call us without delay. These surfaces need urgent attention and preventative paving maintenance.

We will use various corrective measures in our work, such as asphalt patching/repair, crack sealing, and seal coating. Preventative maintenance is always an ongoing process, and you can trust us to monitor these surfaces regularly and ensure that the techniques we use produce predicted results.

If you want high-quality parking lot maintenance done, you need the services of a well-established company like ours that can handle the job as per your specific needs. Asphalt Paving Inc. & Masonry makes sure we provide tailored solutions at competitive parking lot maintenance cost. With us handling this job, you also have the assurance that the work will be completed on time and to your 100% satisfaction. We aim to delight you with our services and ensure you get a good return on investment.
Cities that are served in New York (NY):