Parking Lot Striping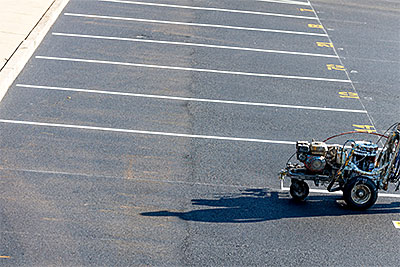 Striping is the most crucial facet of a parking lot. It allows customers, your staff, and employees to park correctly and keep everything organized. As a commercial property owner, you are expected to stay in line with specific guidelines laid down by the ADA. Similar guidelines have to be followed regarding striping as well.

Parking lot striping work needs to be handled by experts like us at Asphalt Paving Inc. & Masonry. We have the experience required to provide you with the type of services you need. Our company serves clients in and around Flushing, NY, and customizes solutions to meet their needs. We assure you of high-quality parking lot striping solutions and excellent customer service.


Range of Parking Lot Striping Options
We believe that using the right striping paint material can make all the difference to the final product. Below are three commonly used parking lot striping options we recommend:


Reflective Glass Beads Paint - This paint is perfect for parking lots which see heavy traffic. It is generally used on signs and highways and has high visibility, which makes it an excellent choice for parking lot striping. The paint consists of a considerable number of little glass beads which adhere to the pavement surface area through a binding agent. These beads mirror any light that falls on them rather than scattering it as many paints do. It makes the color more apparent, which guarantees it will quickly catch the drivers' attention.


Latex - Latex is considered the most inexpensive and widely used solution. It is a water-soluble paint that is simple to work with and clean up. It is additionally less prone to fading under the UV rays of the sun and will keep going for many years. A significant number of commercial property owners favor Latex as a parking lot striping material due to the lower initial price and easy and quick application. Latex tends to dry quickly too, which is undoubtedly a benefit because commercial parking lots cannot be left closed for lengthy periods.


Acetone Acrylic Copolymer - This paint will last much longer compared to latex. It is a solvent-based product that is simple to tidy up and work with. This paint is exceptionally resilient and will not have to be replaced as frequently as latex paint striping. The paint has a low VOC content, which makes it a safe parking lot option too. The acetone acrylic color dries quite fast and is low maintenance, which is an added advantage of this material.


High-Grade Parking Lot Striping Services
For high-quality parking lot striping, you need the services of a well-established company like ours that would be able to handle the job as per your specific needs. Asphalt Paving Inc. & Masonry makes sure we provide tailored solutions at competitive parking lot striping cost.

We aim to delight you with our services and ensure you get a good return on investment. For any more information, feel free to contact us at this number - 646-656-0806 or through this contact us form.
Cities that are served in New York (NY):