Sidewalks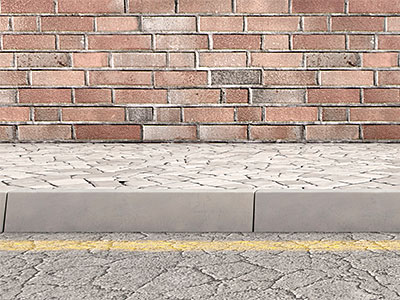 Practically nothing supports a recently installed parking lot or concrete paths better than custom-designed sidewalks and curbing. One of the simplest ways of improving the appeal of your business property and its surroundings is to install a well-designed sidewalk in the correct spot. Sidewalk design and build is not a task you should entrust to an inexperienced contractor.

This job needs to be handled by experts like us at Asphalt Paving Inc. & Masonry. We have the experience required to provide you with the type of services you need. Our company serves clients in and around Flushing, NY, and customizes solutions to meet their needs. With us, you are always assured of high-quality sidewalk installation solutions and excellent customer service.


Custom Sidewalk Building Specialists
A concrete sidewalk might look like a straightforward inclusion on a commercial property. However, skilled workmanship could be the difference between a flawlessly smooth surface and imperfect, rough, and cracked surfaces that can result in slips and falls.

To be able to get a high return on investment and a concrete sidewalk that will require minimal maintenance, you need to hire a team of proven professionals. As a business that's been operating in this particular space for over 25 years, we have the expertise, technology, experience, and the resources to deal with sidewalk design and installation projects expertly.


Why You Should Get A Sidewalk Installed
There are many reasons why installing sidewalks on your commercial property is an excellent idea. Concrete sidewalks are elevated installations that run alongside roads and streets. They are not just a part of your property but also an essential element of the roads adjacent to them. They offer a more secure location for pedestrians to walk on; particularly in high traffic areas where walking on the streets can be quite dangerous.

This surface is separated from the adjacent road by raised barriers called curbs, which run along its length. Curbing is the boundary between the sidewalks and the street; it prevents vehicles from running on sidewalks. It is also the reason why sidewalk & curb installations go hand-in-hand. Collectively, these installations ensure much better street safety for people walking on that path.


Local Sidewalk Construction Expertise
Most sidewalks are built using aggregates and concrete. In certain situations, the materials used in this specific installation are controlled by the rules and regulations of the local authorities. We have considerable expertise in handling these tasks and always work in line with all these requirements. Whenever we handle the project, you can be sure that the features will be resilient, appealing, durable, and functional. Whether you want asphalt or concrete sidewalk installations, you need the services of a well-established company like ours that would be able to handle the job as per your specific needs.

With us handling this job, you also have the assurance that the work will be completed on time and to your 100% satisfaction. We aim to delight you with our services and ensure you get a good return on investment. For any more information, feel free to contact Asphalt Paving Inc. & Masonry at this number- 646-656-0806 or through this contact us form.
Cities that are served in New York (NY):