Waterproofing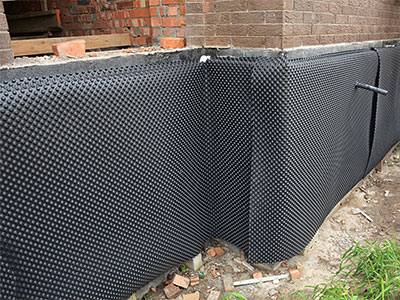 Waterproofing in the technique implemented to make surfaces and buildings resistant to water. It is an excellent method to protect your commercial building or home from water damage, warping, and rotting. It also protects structures from various other kinds of problems triggered by moisture and the accumulation of water.

If you reside in a coastal area or even have a pool on your property, waterproofing is a beneficial investment. It will increase the lifespan of the structure of your home. Waterproofing work needs to be handled by experts like us at Asphalt Paving Inc. & Masonry.

With over 25 years of industry experience, we have the experience required to provide you with the type of services you need. Our company serves clients in and around Flushing, NY, and customizes solutions to meet their needs. With us, you are always assured of high-quality waterproofing solutions and excellent customer service.


Customized Waterproofing Services
Waterproofing is a skill that we've mastered over the years. It's also why a lot of property owners choose our services. Depending on the setting and your specific needs, we may use waterproofing products such as:


Troweled applications
Layered fabric-based waterproofing materials
Class A fire-rated applications
Fluid applied membranes
Reinforced concrete coatings

We identify which kinds of coatings or materials will work best with the structure and provide protection from climatic changes. Unlike various elastomeric paints that provide movement flexibility, certain special waterproof coatings are available in set opaque/clear finishes.


Where Can Waterproof Coatings Be Used?
Some surfaces on which we use these waterproof coatings are:


Foundation walls
Concrete
Exterior wall surfaces
Stucco
Other porous surfaces and also features and installations that may benefit from waterproofing

No matter how challenging the weatherproofing task, we have the skills, expertise, and technology to provide you with viable waterproofing solutions for different surfaces. We're the experts that make certain you get the very best results with our affordable and professional waterproofing services.

We use just top quality, proven waterproof coatings which are known for long-lasting results, and superior protection. The most advanced techniques and tools are used in the job, ensuring the exterior surfaces receive exceptional protection.


Why Hire Us For Your Residential And Commercial Waterproofing Projects?
Detailed floor/wall preparation
High quality work finished within budget and on time
Most sophisticated & advanced painting tools and processes
Careful while working around your property and possessions
All materials and labor are guaranteed

If you want high-quality waterproofing done, you need the services of a well-established company like ours that would be able to handle the job as per your specific needs. We make sure we provide tailored solutions at competitive waterproofing cost.

With us handling this job, you also have the assurance that the work will be completed on time and to your 100% satisfaction. We aim to delight you with our services and ensure you get a good return on investment. For any more information, feel free to contact Asphalt Paving Inc. & Masonry at this number - 646-656-0806 or through this contact us form.
Cities that are served in New York (NY):